Inspired by a friend who plays foursquare on his lunch breaks at Keen, Nick suggested that the group take a rec day. Charles liked the suggestion figured on having a half-day once a month for the office to get out and do something together. Call it "team building" or whatever you like. It was an excuse for all of us to get out in the sun! On a recommendation from the Taylors we decided to contact Malibu Longboards Surf School and owner Matt Rosas.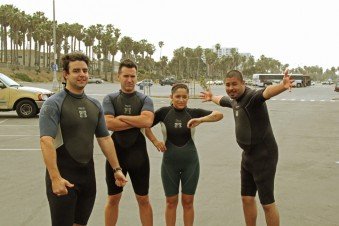 The day began group slipped into full-body wetsuits at 10 in the morning, the sky still cloudy. Matt asked if we had much experience. We hadn't. The surf, he said, was especially choppy and conditions were less than ideal for beginners. Matt took us to the sand and gave us a short lesson, emphasizing slow movements and keeping our eyes on the horizon. It's not rocket science, he admitted. The most important thing was to get out of the way if a wave came up and the bull-ahem, board–came charging at us.
We left Matt and eeked out into the water. If you've ever had to "beat the break" you can empathize with what we were about to experience. Frank and Nick managed to forget Matt's rule and were immediately pummeled by their boards when a tall wave confronted them.
Charles got the hang of it right away. Within minutes he was beyond the break and upright.
Josh and Kristy followed suit.
Murray waited like a sitting buddha out on the water, and was content to let us sit, stand or paddle back as we saw fit, giving suggestions freely. The sun was warm and the surf eventually calmed. After an hour long float we rode the waves back in and cleaned up.
Lunch was spent enjoying Angela's bomb sub sandwiches within eyeshot of the Santa Monica Pier. Tired, bruised and content, we traded war stories until the breeze picked up and we packed up the picnic and carpooled back to the office.